HMI One-stop System
HMI One-stop System

HMI (Human Machine Interface) is a necessary element in a wide range of products including not only PCs and mobile devices but also domestic electrical appliances, automobiles, robots and so on.
Main Points of IMAGE Co., Ltd. Development and Production Technology
PC and mobile GUI design

Web communication design

Theoretical survey and analysis such as usability evaluation, etc. (Theoretical assessment of GUI and WEB)

3D CG production technology (more than 20 years of history producing movies and TV commercials, etc.)

Computer programming technology (PC, Web, mobile application planning and development technology)
IMAGE Co., Ltd. can propose, develop, and produce HMI that integrates all these elements

HMI in Automatic Operation
For HMI in automatic operation, not only design, but also usability assessment, programming and 3D CG data production are important.
IMAGE Co., Ltd. can perform all these tasks via one-stop services.
We can also work with Apple Car Play and Google Android Auto.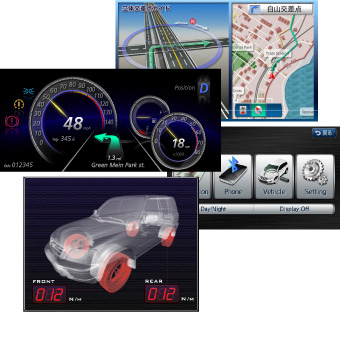 Our HMI initiatives date back to MMI (Man Machine Interface) icon integration research, which was conducted by our representative Mr. Tayama in his previous job (1988, while at Toshiba) and was passed on to IMAGE Co., Ltd.
The IMAGE Co., Ltd. HMI development and production project has participation by the following companies and design firms depending on the target products.
PEG Design: Automobile-related GUI design in general

I-Five Inc.: Graphic design of GUI in general for mobile and information appliances, etc.